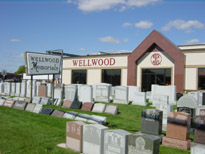 New York and Long Island's largest indoor and outdoor display of memorials and markers. Over 700 to choose from. The Area's Only Exclusive Authorized Rock of Ages Dealer.
The tradition of erecting a memorial to honor a lost loved one is as old as humanity itself. It is part of our natural desire to show our love and respect for those who have touched our lives. It is also a powerful way to express our feelings in a creative and enduring way.
Wellwood Memorials services all cemeteries for additional lettering on monuments without removing the monument. We also add granite bases to existing memorials as to cemetery regulations.
If your family has not yet erected a monument, we invite you to our display in North Lindenhurst.